Sandrider - Sandrider 12" Gatefold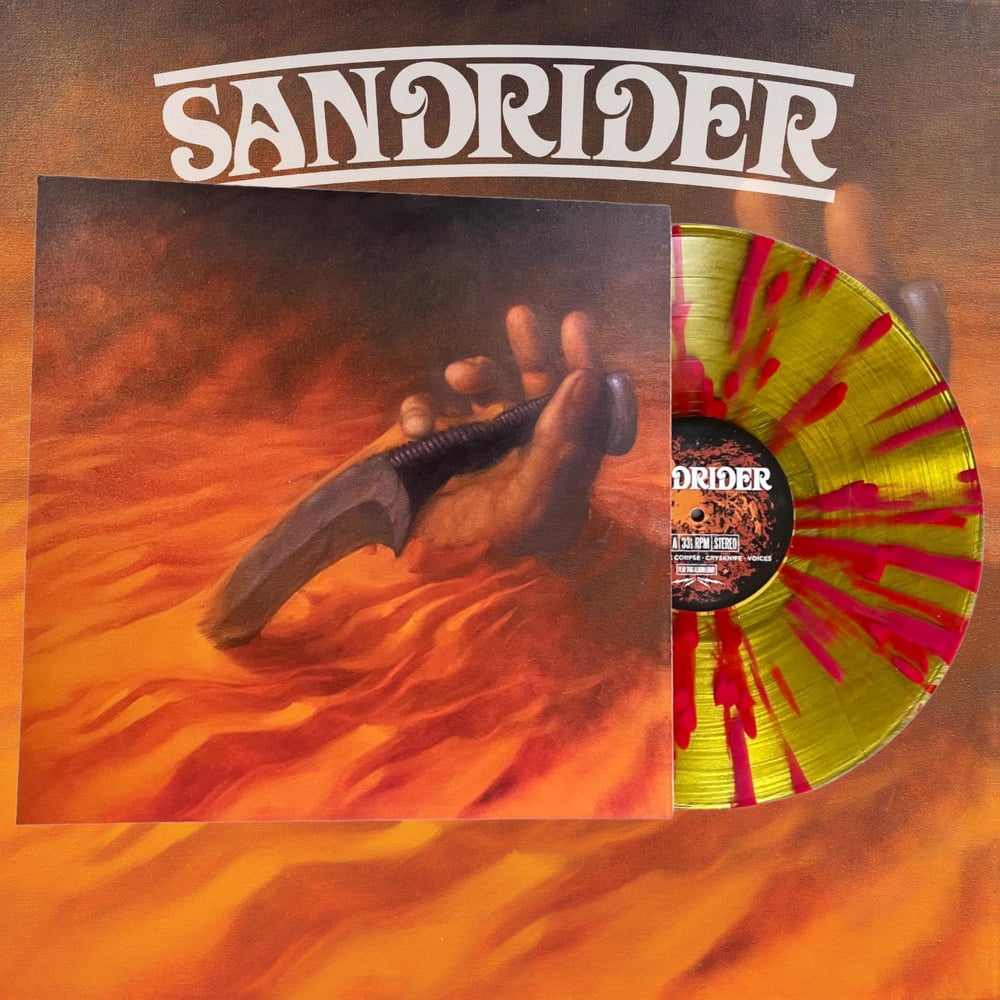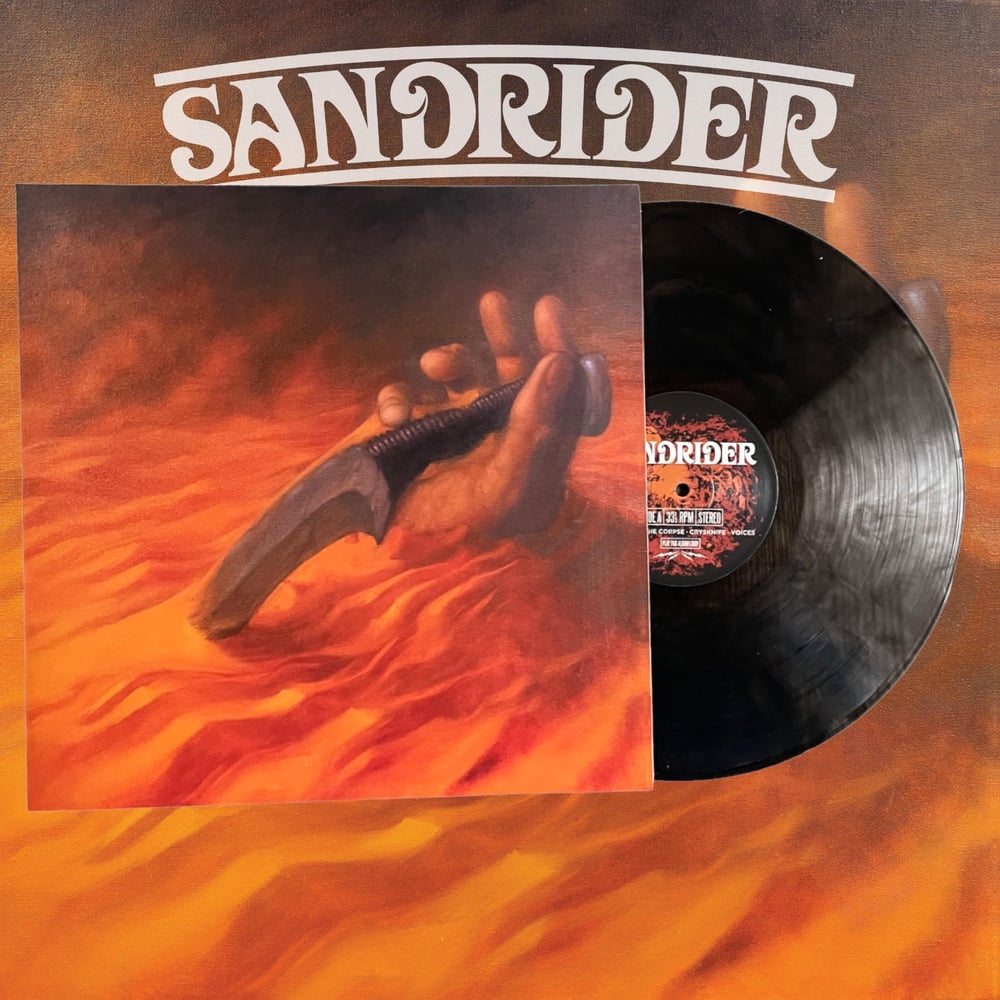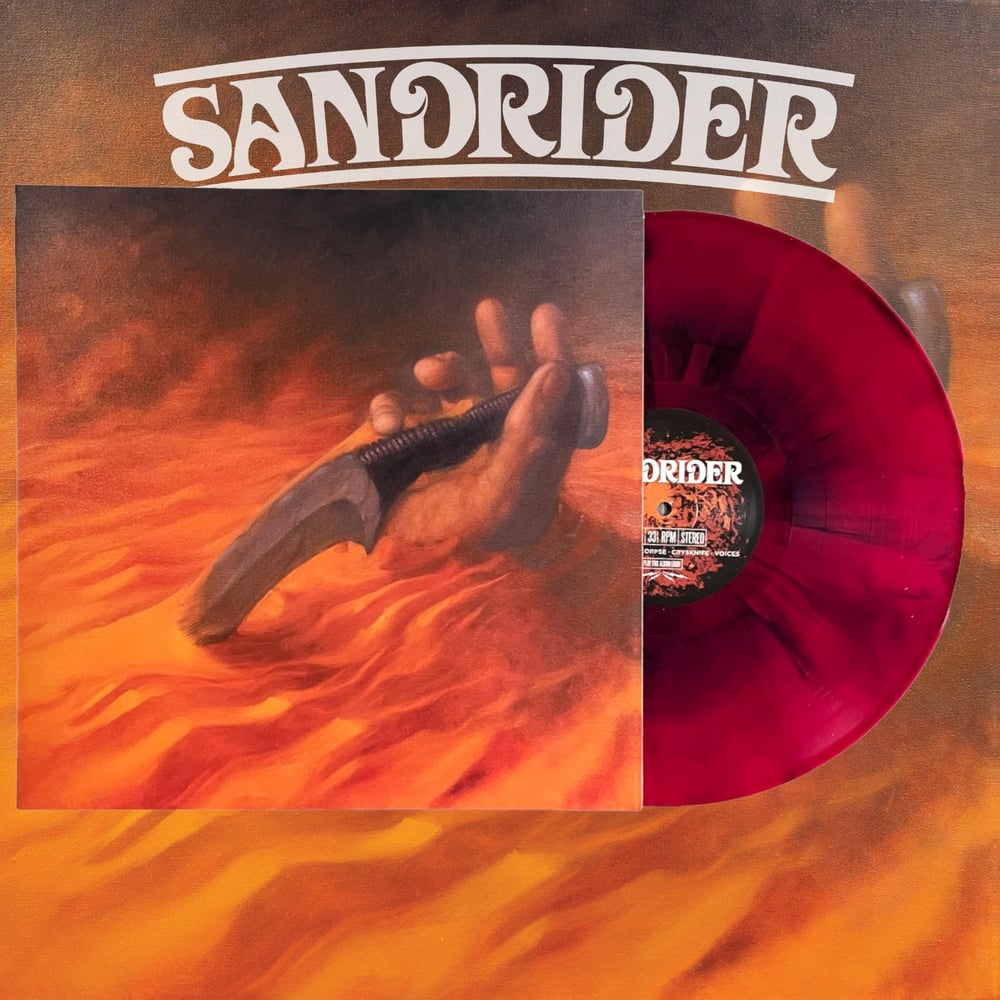 In the mythology that is Frank Herbert's Dune books, a sandrider is a person who has managed to capture and ride one of the gigantic sandworms that live on the planet Arrakis. If you can imagine someone managing to wrangle a huge wriggling creature, you have some sense of the musical power that the Seattle hard rock titans Sandrider has managed to tame.
Says Weisnewski: "I decided to start putting Sandrider together when I got an itch to start playing guitar in a band again. [He plays bass in Akimbo] Originally it was just me and Nat playing around, but it didn't really come together until we started talking to Jesse. I think we were bullshitting while he was tattooing me when I originally brought it up. He came down to our practice space and things clicked really well. After the first practice we were all pretty happy with how things were sounding."
Things have only improved from there. They've already been touted as one of the best bands in Seattle by alt-weekly The Stranger and have quickly found themselves sharing the stage with other NW rock luminaries as Brothers of the Sonic Cloth, Lesbian, and Helms Alee.
Sandrider's next stop is world domination, which should come in short stead once their commanding debut self-titled LP is unleashed by Good To Die Records. This long awaited disc, recorded by Matt Bayles (Pearl Jam, Isis, Mono, The Sword), is a simmering, brooding masterpiece that gives way throughout to massive eruptions of oozing fire and fury.
While they drop the name of influences such as Northwest icons Mudhoney and Soundgarden, as well as such indie favorites like The Jesus Lizard and Drive Like Jehu, Sandrider has hit on a sound that is all their own, and one that is sure to be burning up the speakers on stereos and computers for years to come.
and keep control of.
That should come as no surprise to anyone who follows the Seattle rock and metal scene, as Sandrider features three of the city's most unstoppable forces: drummer Nat Damm and guitarist John Weisnewski of Akimbo, and bassist Jesse Roberts of The Ruby Doe.